Coronavirus (COVID-19) Updates
Important Information
We would like to reassure all of our members that we are operating with COVID safe plans in place.
COVID POLICY UPDATE - APRIL 28th 2022
The WA Premier announced that public health measures will ease at 12:01am, Friday 29 April, with the removal of masks in most settings, density and capacity limits, proof of vaccination, G2G Pass requirements, and new asymptomatic close contact protocols.
We will continue to monitor the situation and keep you updated.
View the updated measures here.
...


COVID POLICY UPDATE - APRIL 13th 2022
The WA Premier announced that public health measures will ease at 12:01am tomorrow, including relaxed capacity limits for gatherings and hospitality and refined close contact definitions.
We will continue to monitor the situation and keep you updated.
View the updated measures here.
...

Updated Proof of Vaccination Directions have been released which provide specific exemptions to proof of vaccination for community sport. The Directions commence on Monday, 31 January.
Loftus 24/7 or Coaching Zone Leederville Members will need to show proof of vaccination only once (this will be recorded with your membership). Casual Visitors to Loftus 24/7 Gym & Coaching Zone Leederville gym and group fitness will need to show ths on each visit. Patrons using the Cafe & Bar will also have to show proof with each visit.
Community sports participants and spectators will not need to show proof of vaccination.
The Proof of Vaccination Directions (No 2) include the following changes:
A definition of community sport (paragraph 26) is now included which states that community sport is an excluded event (paragraph 32(d)), so does not require proof of vaccination
Community sport is defined as organised, community-based team or individual amateur sport played or participated in for no valuable remuneration
If a venue is being used for community sport, it is an excluded venue, even if usually it would require proof of vaccination (paragraph 34(e))
Proof of vaccination is not required for access and egress to the excluded venues (paragraph 34)
A new definition of indoor entertainment venue (paragraph 46) meaning any indoor space used for the primary purpose of entertainment which is open to the public but is not listed in Schedule 1, which also require proof of vaccination.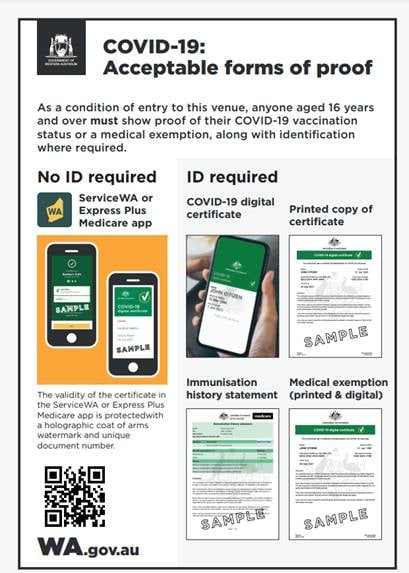 Please follow the Public Health Order.
Following the State Government announcement from the 31st January 2022, all patrons (over 16 years) MUST provide proof of vaccination upon entry and follow the current public health orders. Please refer to our COVID Updates page for more information.
Frequently Asked Questions
Expand all
What are we doing to minimise health risks in-Centre?
The Centre will be vigilant in implementing infection control procedures including daily cleaning in accordance with normal protocols, the promotion of healthy hygiene habits and will make hand sanitiser available for staff and patrons to use while using the Centre.

What information and advice will help our members?
For now, the best advice is to follow some simple steps to help slow the spread of the virus and to reduce the risk of infection.
Follow the information and tips to help improve your safety and wellbeing, from Department of Health website

If I have or am undergoing a period of self-isolation, what happens to my membership?
If you are showing symptoms or have been recommended by a Health Professional to self isolate, you should be staying at home and minimising contact with others. Please contact the Centre team to discuss managing your membership where you are uncertain of your options.